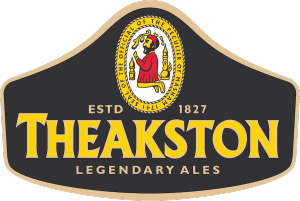 T&R Theakston Ltd is an independent, family brewing company founded in 1827 located in the Yorkshire Dales market town of Masham, North Yorkshire. The company is controlled and run by direct descendents of the founder Robert Theakston, great-great grandsons, Simon, Nick, Tim and Edward Theakston. Theakston's Old Peculier is arguably one of the world's best known and respected Premium Ales, so much so, it is often simply referred to as THE LEGEND.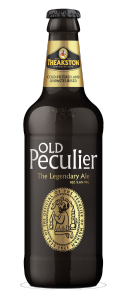 Old Peculier       5.6%abv 500ml &     30L Keg/Keykeg
Old Peculier is possibly one of the country's most well-known and loved ales. This unique, beautiful brew is often imitated but never matched and is sold literally all over the world.  With countless awards to its credit, it is something of which every Briton can be very proud and is the epitome of the greatest of British brewing tradition.  In the early years of the modern brewing era, about two hundred years ago, many brewers produced a dark, strong 'stock' beer in the winter months, to provide a base amount of fermented beer to add to beers brewed in the rather more volatile months of the summer. Old Peculier probably owes its origins to this.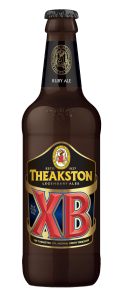 XB  4.5%abv 500ml & 30L Keg/Keykeg
XB is a rare delight, a real ale connoisseur's masterpiece. A strong full-bodied ale with a subtle but superb blend of two types of bitter and three fruit hop varieties giving a most thirst quenching and satisfying ale. XB was first brewed in 1982 to celebrate the purchase of the Carlisle Brewery by Theakstons a few years before. Brewed always and ever in Masham, XB was designed as a tribute to the classic 'border' style of beer, strong in gravity, low but complex hop. It was an instant sucess and has remained so, winning over real ale devotees all over the UK.  Always in the shadow of its more famous stable–mate, Old Peculier, XB has quietly established itself as favourite among serious cask ale enthusiasts.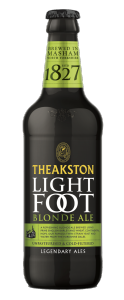 Lightfoot Ale 4.1%abv 500ml &     30L Keg/Keykeg
Lightfoot is named after a brewery in Masham which Theakstons took over in 1919. The Lightfoot and Theakston families were very close and indeed linked through marriage and therefore it was a natural amalgamation of two well-established businesses.  For many years it was rumoured that Theakstons took over Lightfoot because they had a better cricket team something that was deemed unacceptable to the brewers in Red Lane! Lightfoot has always been a popular seasonal ale in fact so much so that in 2010 it became a permanent addition to our range and is now available all year round.  This is a delicious and refreshing, golden ale – brewed in the time honoured Theakston fashion. This is a very pale, straw coloured ale, that uses a special malt to produce a pronounced 'peach-like' element to the aroma and palate, which is complemented by a floral hop character. Brewed using a blend of traditional Fuggle, Golding and Bramling Cross hops.

Pale Ale                   4.5%abv 500ml &      30L Keg/Keykeg
The ultimate thirst quencher! Pale Ale has returned on a wave of popularity encouraged by the growing consumer interest in new world craft keg ales. This wonderful news has encouraged us to brew Pale Ale once again this time with a modern twist. Cold filtered and unpasteurised, the process has enabled us to produce a beautifully subtle flavoured pale-coloured ale using a blend of new world hops noted for their refreshing characteristics in a mash of British and European malts.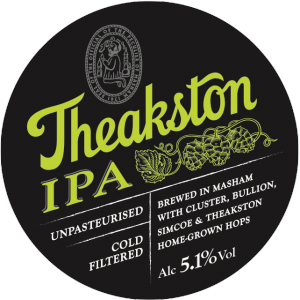 Peculier IPA       5.1%abv Draught
The dramatic growth throughout the world in consumer appreciation of the character and styles of top fermented craft keg ale combined with new and exciting varieties of traditional ingredients has enabled our team of brewers to give full rein to their brewing creativity and skill. Peculier IPA is our modern take on a beer style first developed in the 19th century for our armed forces serving in India. Using a mix of new world hops together with some grown here in Yorkshire and infusing them into a mash of finest locally grown malted barley and then cold filtering rather than pasteurising, we have created a beer of outstanding character and delicate flavour.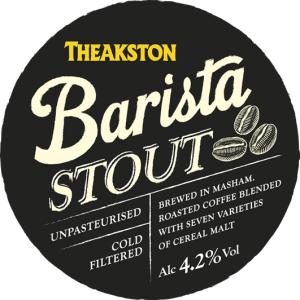 Barrista Stout           4.2%abv Draught
Brewed in Masham using seven different cereals including finest coffee together with subtle fruit hops for seasoning, the brewery cold filter rather than pasteurise to enable the promotion of mouth-wateringly mellow coffee aroma and flavour on a bed of rich full bodied malt with hints of dark berry fruit hop.