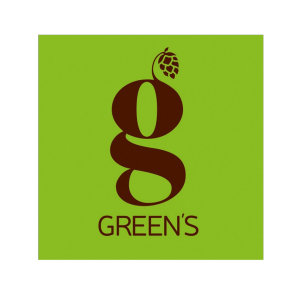 Green's pioneered the gluten free beer market by being the first to introduce a gluten free beer onto the European market in 2003, Discovery.  Since that time Green's have led the market, with the widest range of award winning beers, some which have been de-glutenised, as well some which are naturally free from gluten.  Green's continues to lead the category, with its ongoing innovation of beers which are produced from ancient and alternative grains, which are not only naturally gluten free, but offer many other enhanced health and lifestyle benefits.  Rediscover beer with Green's.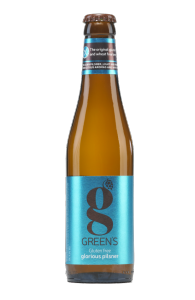 Glorious Pilsner 4.8%abv 330ml
Golden straw in colour, the refreshing citrus aroma of the hop dominates and is crisp and bright. Hints of vanilla are followed by a hop taste that holds some slight bitterness.   Aromatic 'pilsner' nose.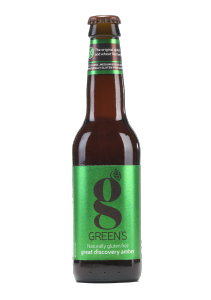 Discovery             6.0%abv 330ml
A medium-bodied amber ale with subtle caramel and nut flavour nuances. Refined, herbal hop aroma and finish. (2011 USA Vegetarian Times Foodie Awards Best Gluten free Ale)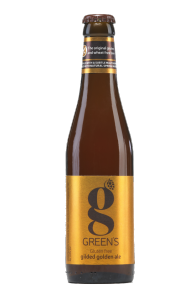 Golden Ale     4.8%abv 330ml
Light amber colour with tight head. Creamy with a dry caramel background, refreshing and clean.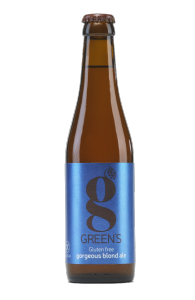 Blond 5.8%abv 330ml
Golden honey colour, tight foaming head. Belgian 'conditioned' odour with a soft, spicy, rich in flavour, strength on nose. Complex bitter/sweet finish.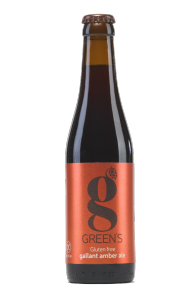 Amber             5.0%abv 330ml
Deep amber colour with a creamy head. Rich, warming, full bodied with good balanced bitterness and roasted finish.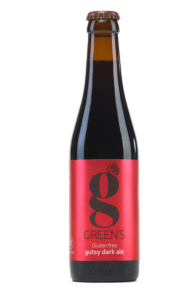 Dark Ale          5.8%abv 330ml
A bottle re-fermented ale, complex and warming, ideal for the fireside. Serve at cellar temperature. Available in selected independent retailers or buy on-line now.  With a pronounced chocolate flavour with sour cherries and burned sugars, it has a rich and complex mouthfeel.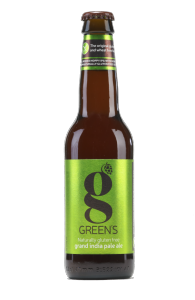 India Pale Ale  4.0%abv 330ml
Red in colour with a mix of herbal and pine aroma, a full mouth feel of the special hopping is unique for this IPA.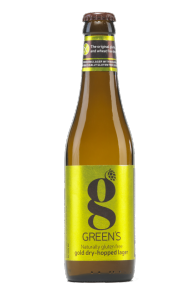 Dry Hopped Lager  4.0%abv 330ml
Golden pale in colour, the nose is a mix of citrus-floral aroma sensations, clean with a light malt taste, but with hoppy aftertaste. A short clean mouth feel typical for a beer reduced in calories and carbohydrates.  The UK's first truly low carbohydrate, gluten and wheat free lager, strong body, crisp and refreshing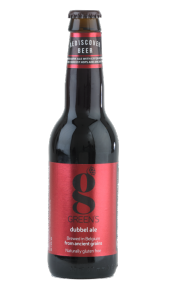 Dubbel Ale            7.0%abv 330ml Bottle
Bottle re-fermented and naturally gluten free.  The latest edition to the range of beers from ancient grains.  The dubbel style originated in Belgium, possibly as a "second style" offered for sale by monastic breweries. Green's Dubbel is the world's first version of this style produced from ancient grains, all gluten-free ingredients.
In the classic Dubbel fashion, a hint of dark-sugar and toffee flavour; and a traditional Belgian yeast bouquet.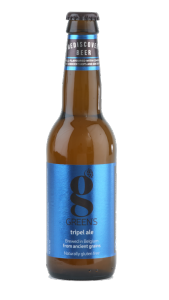 Tripel Ale                 8.5%abv 330ml Bottle
Bottle re-fermented and naturally gluten free, Tripel Ale is the latest edition to our range of beers from ancient grains."Tripel" is a style that was originated by Westmalle Trappist Brewery in the 1930s. Rich and full-flavoured, these are satisfying beers beloved by beer aficionados. Many breweries now produce a tripel, but a tripel made from ancient grains, without barley, is a particular accomplishment.
Light body for beer of this strength; spice and herb nose with flavours of candied fruit. Aromatic, long finish.