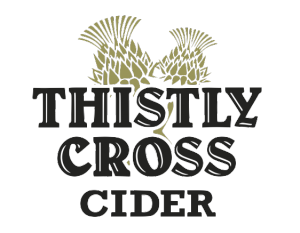 Established in 2008 and based near Dunbar in East Lothian, Thistly Cross Cider was Scotland's original and still the forecast cider maker in Scotland. Thistly Cross is a family owned, family run business with a passion for producing quality cider, made with real fruit by real cider loving people.  Thistly Cross produce authentic cider from branch to bottle, using it's own apples and in some instances Strawberries, all pressed at its own Cider shed. Thistly Cross has rapidly become one of the fastest growing premium craft cider brands in the UK, based on investing in the highest quality ingredients to achieve their award winning cider portfolio.
Original Cider 6.2%abv 500ml
Scotland's original cider is made with a blend of Scottish Heritage apples. A refreshing lightly sparkling cider with a slow fermentation and long maturation to give smooth complexion. Light and fruity to taste, more complex flavours develop with every mouthful.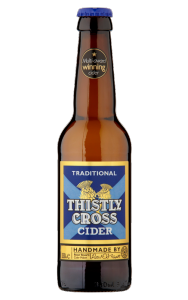 Traditional Cider         4.4%abv 500ml
A classic Scottish session cider, made Scottish Heritage apple varieties grown on and around Belhaven Fruit Farm, Dunbar. A medium, sweet cider with all the aromas of ripe fruit, golden in the glass with a clean apple finish.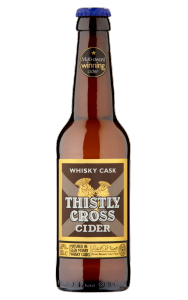 Whisky Cask Cider     6.9%abv 500ml
This whisky cask cider is matured in ex Clen Moray casks for more than 6 months: a flavoursome cider made potent in the wood.  The long maturation nurtures the natural characteristics, allowing the cider to develop into a full bodies Scottish classic.  Thistly Cross releases a number of Special Edition Cask collaborations – exclusively to Partners, Customers & Export markets.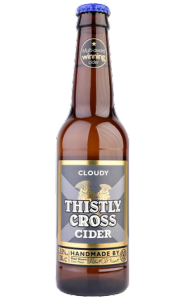 Cloudy Cider    5.5%abv 500ml
Cider is naturally cloudy, so let nature take its course with this crisp and beautifully balanced, medium dry cloudy cider. Packed full of unfiltered goodness!  Thistly Cross Cloudy balances the astringent notes of a scrumpy with the sweetness of a session cider to deliver a cloudy cider with a medium dry finish, leaving you wanting more.  Enjoy this fresh and Thistly take on a classic!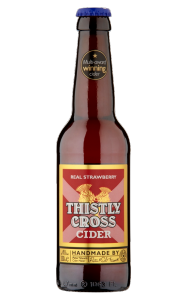 Real Strawberry       4.0%abv 500ml
A premium cider made with our own fresh strawberries and Thistly's most popular fruit cider.  This Real Strawberry Cider has all the bittersweet natural flavours of soft fruit; fresh hand pressed strawberries with a little zing from the apples.  So many strawberries packed into one glass!  A Fruit Cider of genuine provenance and distinction.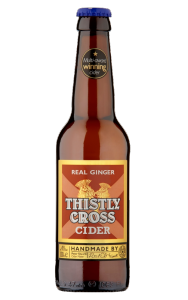 Real Ginger Cider       4.0%abv 500ml
This Ginger Cider is a real Scottish favourite.  A blend of real fresh ginger, pressed on our apple press, infused in Thistly to create a full bodied medium dry cider that unites ginger lovers the world over.  A refreshing summer drink or warming winter tipple! Perfect mulled.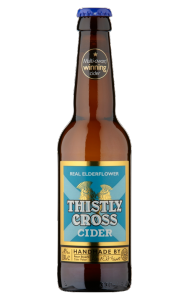 Real Elderflower       4.0%abv 500ml
Zesty, fresh and packed full of elderflowers to create a completely unique cider experience.  Lingering, floral aromas combine with Apple. A real summer cider designed to keep you out in the sun!!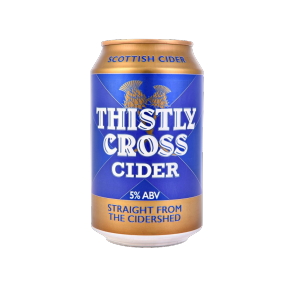 Thistly Cross Cider   5.0%abv 330ml
Cidershed is a brand new recipe created specially for the Thistly cans.  Crisp apple tones are prevalent in this refreshing, less sweet cider, and its medium-dry finish leaves you wanting more!