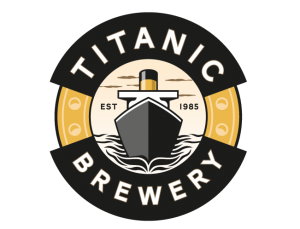 Titanic Brewery was founded in Burslem Stoke on Trent in 1985 with one goal, to produce great beer! As well as being famous for the world renowned potteries of Wedgewood, Doulton and Claris Cliff, the area was also made famous by one Captain Edward John Smith, who was in command of the World's most famous linear the Titanic on its ill-fated maiden voyage. It is in honour of Captain Smith that the Brewery was named. The Brewery produces many exceptional quality beers which bridge the gap between mainstream English Ales and the more Contemporary Craft Beers.  As testament to this, the Brewery has won numerous awards, most recently the Gold Medal at the Great British Beer Festival 2015 for their Plum Porter.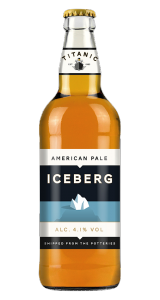 Iceberg               4.1%abv 500ml
A combination of Maris Otter pale malt and fine wheat malt, give this refreshing beer real zest.  Add refreshing Yakima Galena and Cascade hops and what you get is a fantastic wheat beer that will hole any passing thirst.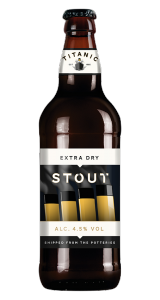 Stout  4.5%abv 500ml & 30L Keg
A true old fashioned stout.  A dark combination of malt and roast with some hops.  Strongly flavoured and well balanced.  Solidly built like the Titanic this beer is eminently sinkable!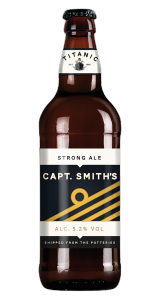 Captain Smith's  5.2%abv 500ml
A red/brown, full bodied beer hoppy and bitter with a sweetness and roast malt flavour and a good strong finish.  Named after one of the most famous of sea captains of all time – Captain Edward Smith, who was born in Stoke on Trent.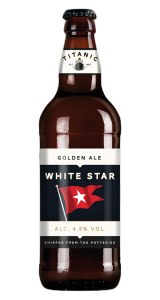 White Star      4.8%abv 500ml
A light refreshing distinctively hoppy beer with a freshness that belies its strength, so easy to drink it will fool all but the crustiest of sea dogs.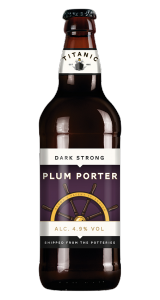 Plum Porter 4.9%abv   500ml & 30L Keg
This beer is dark strong and well rounded; the richness of such a rotund beer is brought to an even keel by the late addition of Goldings hops and natural plum flavouring.  Take the opportunity and go for the low hanging fruit, this sumptuous beer really is a plum!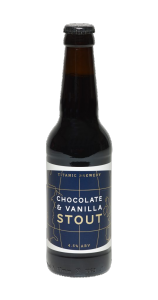 Chocolate & Vanilla Stout 4.5%abv 330ml
Titanic Brewery is rightly renowned for their Stout. Having won many awards over the years for a genuine dry stout this beer offers a delightfully sweeter alternative.  Brewed using Roast Barley and Maris Otter Pale Malt which give a huge amount of rich body to the beer and a generous amount of English North down hops to create a bitter edge, the sweetness comes from the addition of Chocolate and Madagascan Vanilla.  It is so rich and opulent that it seems like a pint and a half in one glass!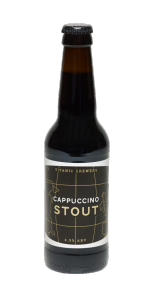 Cappuccino Stout    4.5%abv 330ml
Based on our stout, this beer takes the skill of the barista and adds milky coffee flavour; try topping with chocolate sprinkles!
Tasting Note: With strong coffee aromas and flavours, this cappuccino stout delivers a smooth, roasted and sweet taste to savour. Why choose coffee after a meal when you can have a Cappuccino Stout.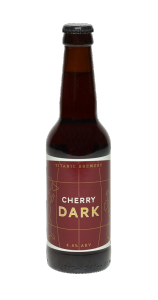 Cherry Dark           4.4%abv 330ml
With Plum Porter so popular, Titanic Brewery chose another fruit to flavour a sweeter dark beer and this fabulous beer is the result.
Tasting Note: A lightly hopped dark red, fruity beer. Powerful sweet cherry taste cutting through, some call it a luscious liquid cherry Bakewell!