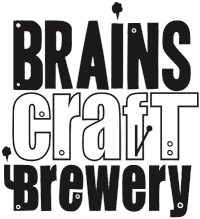 As the No.1 Brewer in Wales, S.A. Brain & Co. Ltd are fiercely proud of their Welsh heritage and the fact that they remain family owned. Founded in 1882 by Samuel Arthur Brain and his uncle Joseph Benjamin, S.A. Brain & Co. Ltd have been brewing beer in Wales' capital for more than 135 years.
In 2012 they opened the Brains Craft Brewery which allowed them to brew in smaller batches and be more experimental with their flavours. To date they have produced over 100 craft beers, and the Craft Brewery has become an integral part of the Brains beer range.
A lot may have changed since 1882, but their values remain the same.
Barry Island IPA  5.0%abv  330ml
An Americal style IPA
Created by Simon Martin, aka Mr Real Ale Guide, this India Pale Ale was inspired by the 'IPA revolution' across the pond.
The boy from Barry had used a trio of hops from the US in this pale coloured ale, which is bursting with citrus aromas.
A unique smooth malt taste upfront is finished off by a vigorous bitterness and a 'tidy' clout of citrus and berry hop flavours.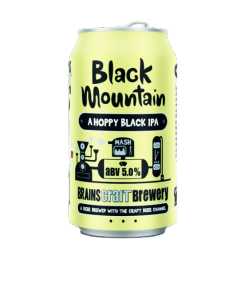 Black Mountain  5.0%abv  330ml
A hoppy black IPA
Black Mountain was brewed in collaboration with The Craft Beer Channel and if you close your eyes it smells like a classic American pale ale, but Black Mountain is bigger than that.
It start with coffee, liquorice and burnt toffee.  Then, after a few seconds there's an explosion of hops from the mountain of Amarillo, Pacifica, Citra, Summit and Apollo, before the final say goes to the Chocolate malts and their moreish smoky finish.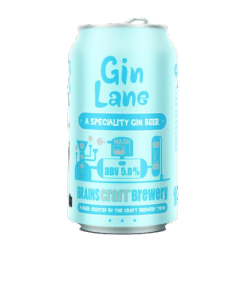 Gin Lane  5.0%abv  330ml
A Speciality Gin Beer
In a journey that brings together two of the nation's favourite drinks, the prosperity of Beer Street brings out the best in Gin Lane.
Lemon and lime aromas give way to herbal, spicy hop flavours and finally a dry, pleasantly bitter aftertaste created by adding gin botanicals to the brew, including ground juniper berries and crushed coriander seeds.  Crisp and sharp, with a distinctive gin flavour, Gin Lane is the perfect tonic.
Point Break  4.5%abv  330ml
Craft Lager
Smooth, refreshing full flavoured lager brewed with 100% lager malt, Californian lager yeast and the Hallertau Blanc hop.
Sweet and fruity with distinctive passionfruit and melon flavours leading to a crisp finish with hints of pineapple and white grape.