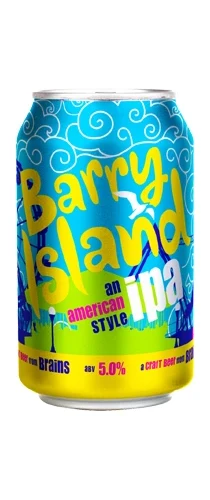 Brain Barry Island IPA
5.0% ABV
An Americal style IPA

Created by Simon Martin, aka Mr Real Ale Guide, this India Pale Ale was inspired by the 'IPA revolution' across the pond.
The boy from Barry had used a trio of hops from the US in this pale coloured ale, which is bursting with citrus aromas.
A unique smooth malt taste upfront is finished off by a vigorous bitterness and a 'tidy' clout of citrus and berry hop flavours.
Available in 330ml can + 30L non-returnable keg