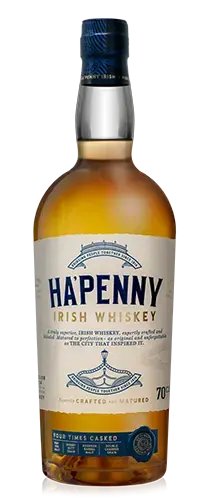 Ha'Penny Four Cask Whiskey
43% ABV
Ha'Penny Irish Whiskey was created using four different cask types and two styles of whiskey.  The Whiskey is a combination Port Pipe Malt, Bourbon Barrel Malt, Sherry Butt Grain & Double Charred Barrel Grain. This combination gives a deliciously versatile, rich and spicy whiskey. Non-chill filtered and presented at natural colour, this whiskey will appeal to a wide variety of palates.
NOSE: Rich aromatic with hints of almonds, oak and a nutty sweetness.
PALATE: Rich oak + apricot sweetness developes into a fusion of marzipan, honey and praline.
Available in 700mlk Bottle